---
---
🌧【 Main function 】: On rainy days, the rain blurs the rear-view mirror, making it impossible to observe the road conditions behind both sides when driving, which is very dangerous. Installing a pair of rain eyebrows for the rearview mirror will solve this problem! The product is very flexible and can be bent arbitrarily to suit the styles of the rearview mirrors of many models. 
💨【 Wind Guide Design 】: This product adopts a special wind guide design. When the car is driving, the rain shield can guide the wind to the mirror surface of the rearview mirror, so that even if there are raindrops on the mirror surface, it will be blown off by the wind.
✨【 Keep Clear 】: The use of rain eyebrows can keep the vision of the rear-view mirror clear in rainy days, and it can also reduce the dust attached to the rear-view mirror in sunny days, which is multi-purpose.
💪【 High Quality 】: The product is made of high-grade PVC material, which is not easy to deform, and is not afraid of rain; Using rain eyebrows, the field of vision of the rearview mirror can be kept clear in rainy days, and it can also reduce dust from attaching to the rearview mirror on sunny days, which is very practical.
✅【 Softness and Toughness 】: The material used in this product also has the characteristics of softness and strong toughness. It can be installed on the outside mirror of the car to block the rain, so as to ensure the vision and safety of the driving.
😊【 Easy installation 】:  It has 3M strong adhesive tape on the back, which is a material with very strong adhesion, but does not leave any marks. Note: Please pay attention to clean the rearview mirror before pasting, and install it after it is dry and dust-free. In low temperature weather, use a hair dryer to heat properly to soften it before installation.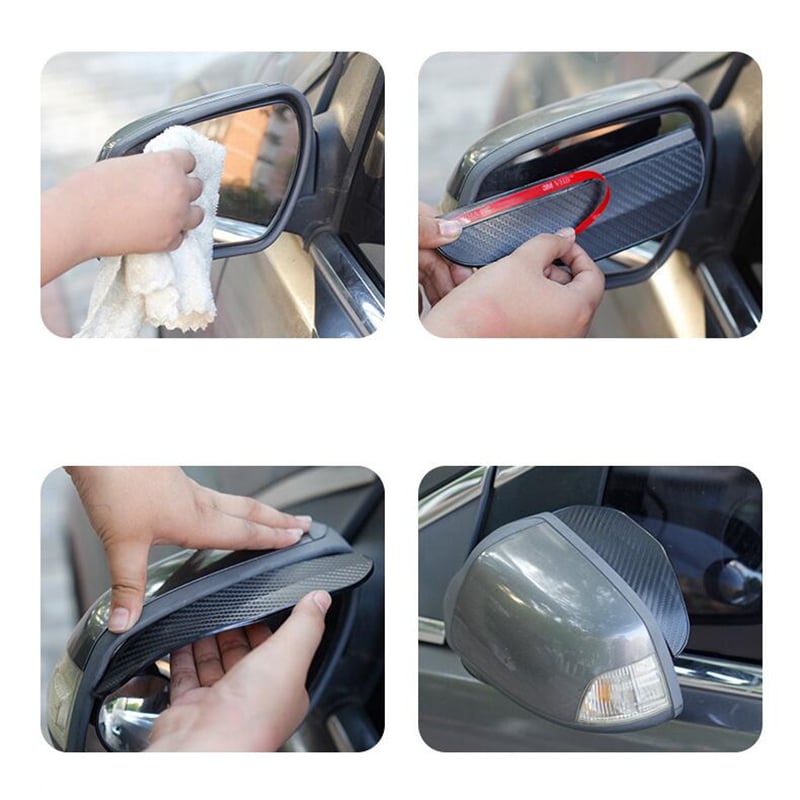 ❕【 Kind Reminder 】: The rain eyebrows will not completely block the rain. It is only an auxiliary function, but it can still stop most of the raindrops, especially in the process of driving.
Specifications
Material: PVC
Color: Carbon fiber black
Product size: Carbon fiber: 182 X 58 MM
Package includes: 2PCS  X Car Rear View Mirror Rain Eyebrow Visor
---
✨Please Note✨

1. Since it is manual measurement, please allow a difference of 1~2 cm, please don't mind before bidding.

2. Due to the difference of light and screen, the color of the item may be slightly different from the picture;

3. Please read and consider carefully before shopping. Thank you for your understanding.
---