---
---
PRODUCT DESCRIPTION
Housework erodes hands, sharp objects in life are easy to hurt hands, and traditional gloves are easy to age and contaminate bacteria!
Our Rubber thickened cleaning gloves can help you solve your troubles.
✅ Durable and puncture resistant
✅ Stretch without deformation
✅ Anti-dirty and degreasing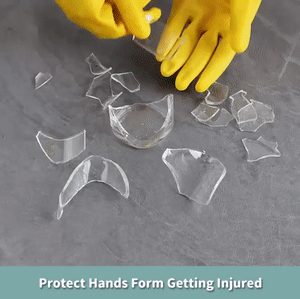 Perfect for dishwashing, pool maintenance, logistics, cleaning (ex. pond gutter grain), car/cloth washing, kitchen/bathroom using, working, painting, gardening, fishing, pet caring, daily chores,DIY and any household duties.
FEATURES: 

Good Toughness/High Density
Thickened material, good sealing, waterproof and oil-proof, and anti-leakage. Pulling is not easy to deform, puncture-proof and better protect your hands.

Lightweight And Flexible
It conforms to the palm line design, flexible and free, just like the second skin of the hands.

Direct Contact With Food
No peculiar smell, no dust, direct contact with food. The flour is not sticky, light and flexible.

Anti-Slip Palm Print
The palm has anti-slip lines to prevent slipping. It is safer to clean dishes and other items.

Easy To Clean
After cleaning up the housework, it can be cleaned easily by rinsing with water.

SPECIFICATIONS: 
Material: Rubber

Color: Yellow

Weight: 70G

Packet: 1* a pair of Rubber Thickened Cleaning Gloves
---